Discover the epitome of upscale city living at Libra Living @ Spencer Place, a stunning new residential development located in the heart of Dublin's vibrant Docklands. With a multitude of top-class amenities on site, this exclusive address promises an unparalleled living experience for its residents. In this blog, we will explore the fantastic facilities that await you at Spencer Place, designed to cater to your every need and desire.
Residents Sky Lounge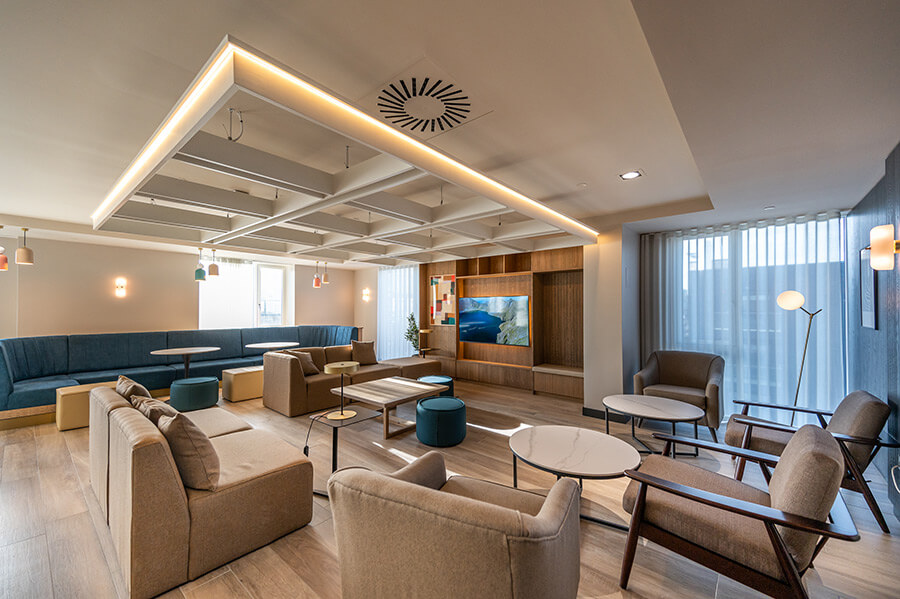 Elevate your relaxation and socialising experience at the Residents Sky Lounge. With floor-to-ceiling windows offering breathtaking panoramic views of Dublin's cityscape, this sophisticated space is the perfect setting for unwinding after a long day or enjoying a glass of wine with friends. The stylish, comfortable seating and contemporary design ensure an ambiance of pure luxury.
Rooftop Terrace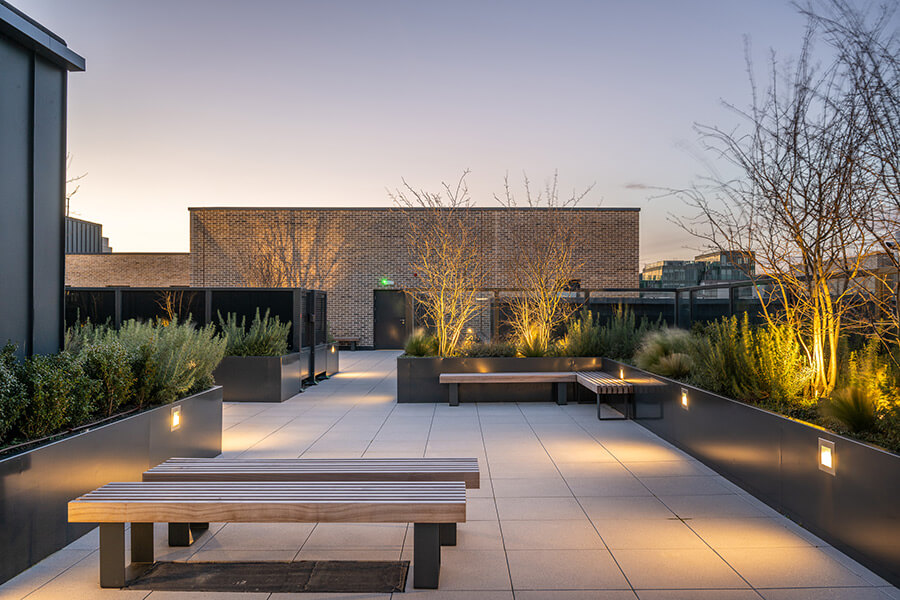 Take in the fresh air and stunning vistas from the Roof Top Terrace. This landscaped oasis in the sky is an idyllic spot for catching some sun on a warm day, or simply taking a moment to appreciate the tranquillity amidst the urban buzz.
Co-Working Lounge & Private Meeting Rooms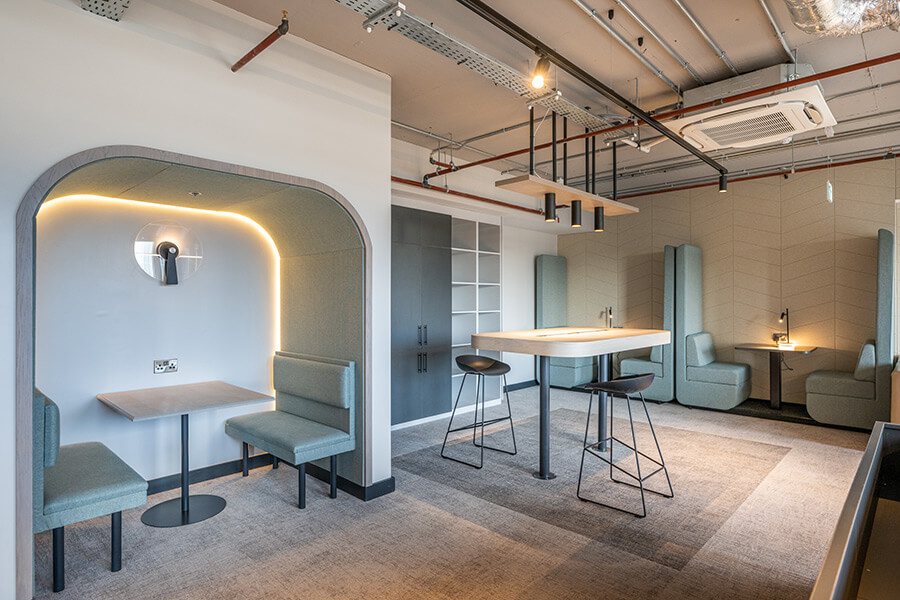 The Co-Working Lounge provides a comfortable and inspiring environment for residents who work from home or require a quiet space to focus. Complete with high-speed Wi-Fi, ample seating, and a dedicated quiet zone, this amenity allows you to work productively without venturing far from home. Need to host a meeting? Reserve one of the stylish Private Meeting Rooms, fully equipped with the latest technology to ensure seamless presentations and collaborations.
Private Dining Suite and Kitchen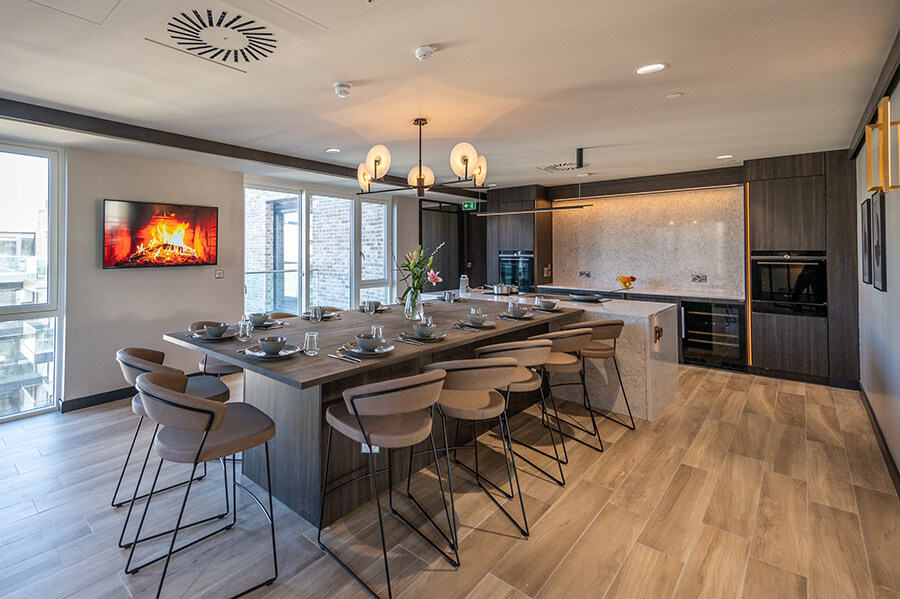 Entertain guests in style at the Private Dining Suite, a luxurious space boasting an elegant dining area and a fully-equipped kitchen. Host intimate dinner parties or larger gatherings with ease, and impress your guests with a bespoke dining experience in a sophisticated setting.
Large Open Plan Gym, Exercise Room & Games Room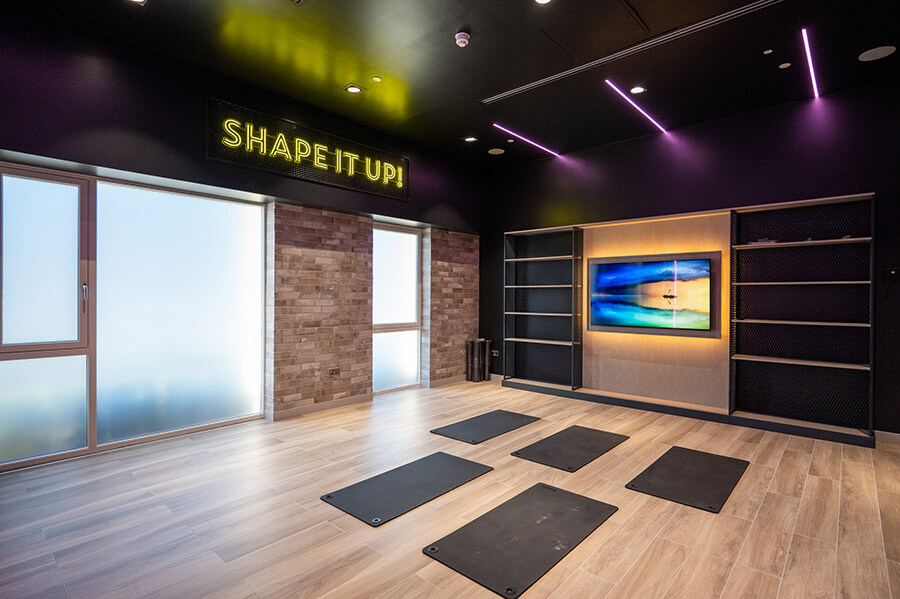 Achieve your fitness goals at the state-of-the-art, Large Open Plan Gym, featuring a wide range of cardio and strength equipment to cater to all levels of fitness. Need a space for your yoga, Pilates, or dance practice? The Exercise Room is the perfect spot for you. For those who prefer a more playful approach to their leisure time, the Games Room offers a variety of entertainment options, including pool, table tennis, and foosball.
Cinema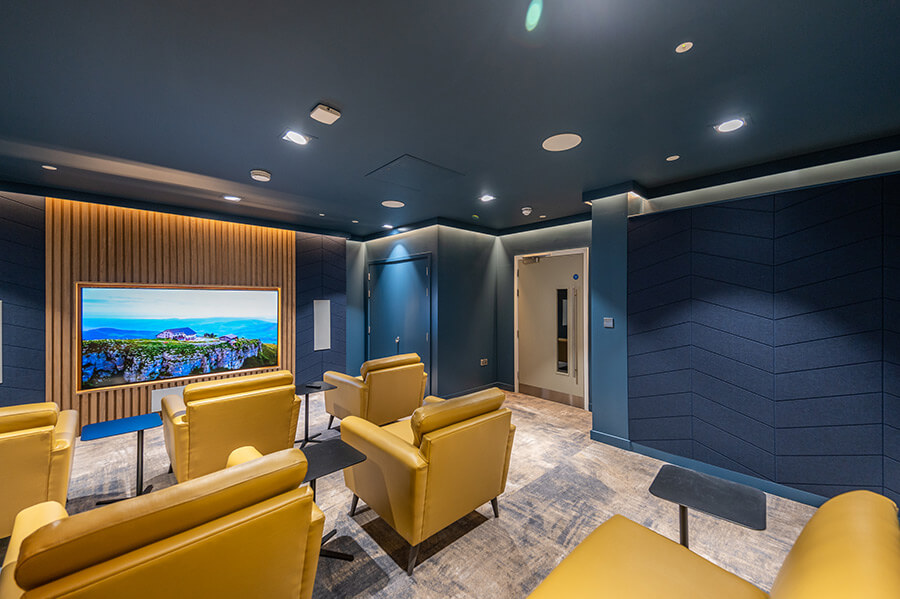 Immerse yourself in the magic of the movies in the private on-site Cinema. With a selection of the latest blockbusters and timeless classics at your fingertips, enjoy an unforgettable cinematic experience in the comfort of your own building.
Reception & Resident App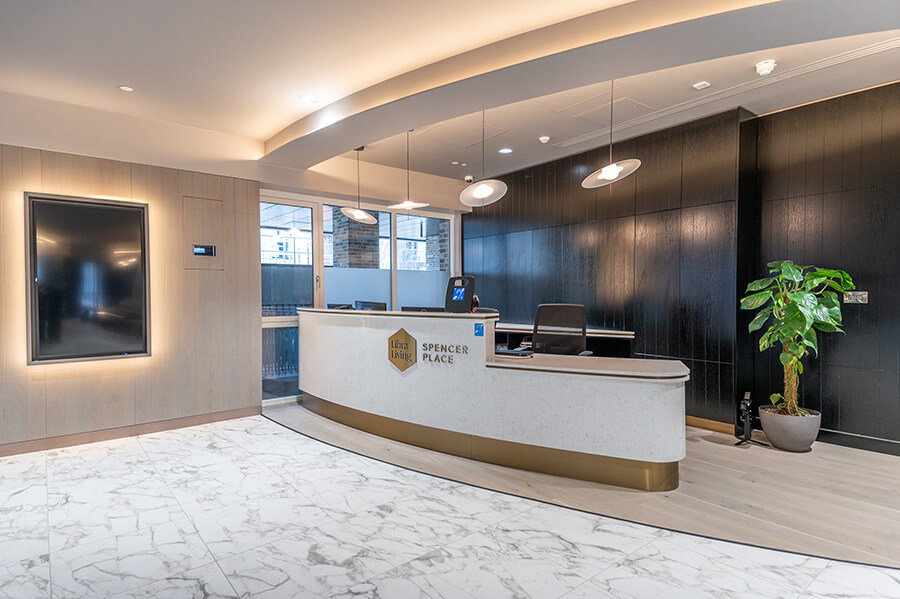 At Libra Living @ Spencer Place, your convenience and security are our top priorities. Our friendly Reception staff are on hand to assist you with any queries or requests, ensuring a seamless living experience. The Resident App allows you to book amenities, access important information, and stay connected with fellow residents – all at the touch of a button.
Complimentary TV and Broadband Package
Stay connected and entertained with a complimentary TV and Broadband Package, offering a wide range of channels and high-speed internet access, included in your residency.
Laundry and Dry Cleaning Services
Enjoy the convenience of on-site Laundry and Dry Cleaning Services, taking the hassle out of everyday chores and freeing up more time for you to indulge in the fantastic amenities at Spencer Place.
Libra Living @ Spencer Place offers an exceptional standard of living, with a host of deluxe amenities designed to meet the diverse needs of its discerning residents. Immerse yourself in a world of comfort, convenience, and luxury, where every detail has been carefully considered to provide an unparalleled living experience. From the breathtaking views of the Residents Sky Lounge to the state-of-the-art fitness facilities and the lively social spaces, Spencer Place truly has it all. Don't miss the opportunity to join this thriving community and experience the finest in Dublin living. Secure your spot at Libra Living @ Spencer Place today, and discover a new standard of urban living.